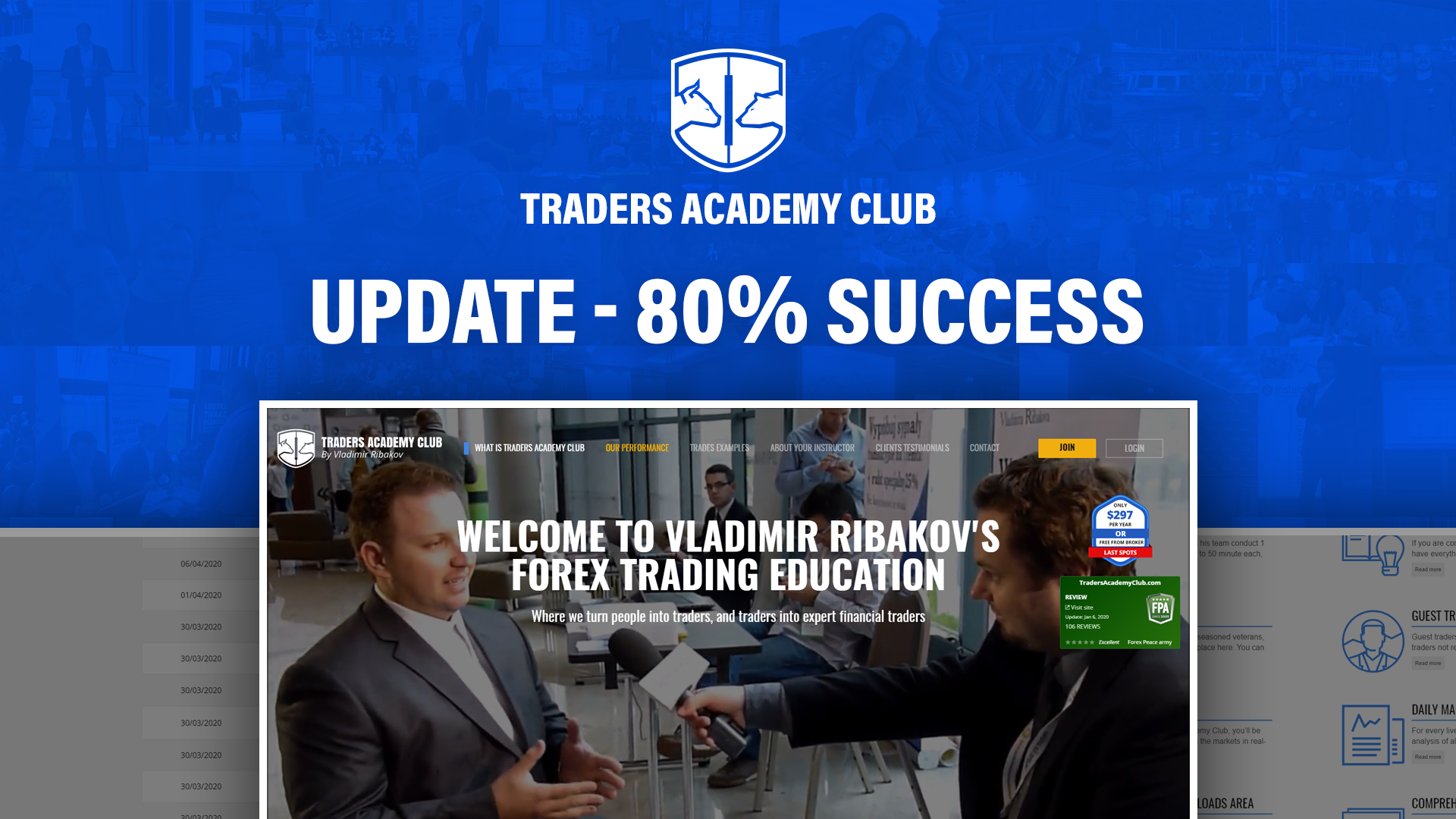 Traders Academy Club Update – Your First Step for Achieving Financial Freedom
Pursing after financial freedom can be found in different industries. One of them is seeking a quality trading education and the place to start is first, finding a professional persona or service and follow it.
Operating as an industry-leader in forex education, Traders Academy Club is one of the most comprehensive and beneficial forex service providers in the industry.
You can think of Traders Academy Club as your all-in-one forex trading nucleus, equipped with the forex fundamentals, complexities, and trading resources that are needed to evolve into a skillful and proficient forex trader.
While Traders Academy Club doesn't feature any in-class sessions (not that it would be allowed due to COVID-19 anyway) they do offer self-paced forex trading teachings that enable endearing traders the ability to cultivate invaluable forex trading knowledge when most convenient to them.
While the educational aspect of the Traders Academy Club generates exceptional allure, access to the growing community of forex traders and the robust trading resources cannot be stressed upon enough.
The aim of this review is to provide you with a thorough update regarding the Traders Academy Club along with its live forex trading performance for the month of April 2020.
What is Traders Academy Club?
Traders Academy Club (TAC) is an educational and applicable online hub that was engineered with the aim to provide traders with not only the know-how but also the tools to take their forex trading to never before seen heights.
Before transitioning into forex trading and mentoring, Vladimir Ribakov was a successful hedge fund trader and to this day is an International Certified Financial Technician, so you know he is the real deal.
What many traders fail to realize would be that through Vladimir Ribakov's extensive trading career, he has been able to amass an incredible sum of wisdom and insights that can only be acquired through years of trading.
To expand a bit further, this means that not only do you get to learn more regarding how to become a better forex trader but you also receive some of the facets of bottled wisdom that are integrated into the forex teachings in easy-to-digest nuggets of intel.
Traders Academy Club Performance
One considerably valuable feature regarding Traders Academy Club would be the trade ideas that are generated by Founder Vladimir Ribakov.
These forex trade ideas embody the form of Live Market Analysis sessions that are accompanied by detailed trading reports that occur on a daily weekday basis.
This means that you receive trade projections regarding high-probability forex trading opportunities from one of the most experienced and accomplished forex traders in the industry while also learning the trading methodologies that Vladimir used to deduce and formulate these trade projections.
Overall, the accuracy of these Live Market Analysis sessions reflect an astounding success rate of 80.7%, and the consistency of these live market analysis reports far outweigh the performance of most 'professionally' operated signal services and forex trading systems!
You can consider TAC to be a two-for-one forex investment opportunity.
We say investment opportunity because that is exactly what you are doing, investing in your future as a forex trader while gaining all the facets of knowledge required to reach a forex trading proficiency that you've only dreamed of possessing.
To add, the Live Market Market Analysis projections shared throughout the month of April 2020 amassed a 77.77% success rate – all of which can be verified through the Traders Academy Club website.
Forex Trading Education with TAC
Traders Academy Club provides new forex traders with the tools and insight they need to hit the ground running and without the urge to look back.
Educational content includes hundreds of enlightening and relevant forex trading videos, in-depth forex trading eBooks, online beginner guides, access to all of Traders Academy Club's trading products, and much more.
We are talking about a cornucopia and completely stocked arsenal for forex trading.
Additionally, you can access their media library that is made up of a couple of hundred beginner and advanced trading webinars that reflect educational teachings, recorded trading simulations, and in-depth analysis videos.
All the facets of forex wisdom that you've been seeking to obtain and extract for yourself are at Traders Academy Club, you just have to have the commitment, drive, and curiosity to seek it out for yourself.
Traders Academy Club Reviews
Over one hundred members of the Traders Academy Club have shared their greatest likes, dislikes, and experiences at Forex Peace Army.
This has resulted in Traders Academy Club reflecting a 4.7 out of 5-star rating while the three most recent reviews may be found shared below:
meehanmj01 – "By following his teachings he will make you money and give you a career for life. He also creates a number of ai programes and a divergence course of study and live applications."
VinceVega – "..I've been with TAC and Vladimir Ribakov for 2 months now and it's been an overwhelmingly positive experience…The first thing I was impressive with is the sheer amount of learning content Vladimir provides, you'll learn anything you need to know to trade any market on any timeframe. There are video series explaining with a lot of detail how to analyze an instrument top down, using his unique style of cycles & divergence. You'll learn how to create a hypothesis, develop a plan and identify setups in that direction and invalidation signs… There is no more second-guessing. It is a lot of material to digest though, I'm a nerd and it still took me over a week to go over all of it. But once you got it, you'll be able to go through your watchlist like – No, No, No… YES!… On to of that, there is live sessions every day with Vladimir or Yordan, where they go through the Weekly watchlist, explain the developments in detail, what to look for and how to trade it. Furthermore, there is the Telegram group, where not only Vladimir and Yordan, his head of trading, are constantly present to answer questions and comment on peoples chart, there is an active community of successfull traders that trade all kinds on strategies – such as Price Action Patterns, Elliott Wave, Harmonics you name it. You'll get views from multiple different minds, when their opinions line up – which they often do, you have some amazing setups… So to summarize, overwhelmingly positive, very great experience, best trading decision I have made in my life, been out there alone for a year and it's not been working. Trading itself is hard enough, no need to fight out there alone. So don't hesitate, join us for a ridiculously cheap price btw!"
Franco8181 – "I have been a member of TAC for over a year now and I cannot say enough great things about Vlad and his team. The education material is amazing, the chat rooms are always monitored and questions are always answered, and the (almost) daily live trading room is amazing. Best bang for your buck, hands down!!"
Learn Forex Trading for Free
Becoming enrolled with Traders Academy Club requires an annual subscription price of $297 but as you can tell from the reviews shared above this educational forex provider is worth its weight in gold, and then some!
For those of you who wish to work their way around this annual subscription, you can consider registering and depositing with one of the Traders Academy Club's supported brokerages so that the money stays in your pocket.
You should know that Traders Academy Club sponsored brokers are ALL regulated and licensed, they do not affiliate with non-regulated forex brokers which serve as yet another testament to their credibility.

The Bottom Line
Whether you are looking to gain a better understanding of the foreign exchange markets through professional made forex teachings or are looking to gain a competitive edge through the implementation of forex trading ideas and resources, Traders Academy Club delivers the one-two punch you desire.
Generating over a 75% success rate for the month of April and reflecting a cumulative winning percentage of over 80%, it is difficult to remain ignorant of the consistency, value, and tremendous opportunity that Traders Academy Club provides to forex traders of all skill levels.
Nail down the fundamentals and complexities of forex trading while taking advantage of high-opportune forex trading ideas generated by Vladimir every weekday.
The choice is yours, either you can continue to progress at your own-pace through trial-and-error or you can accelerate the process by learning from one of the best forex traders and mentors the foreign exchange industry has yet to see.
Should you have any questions relating to Traders Academy Club we invite you to share your inquiries with us below or reach out to us directly at [email protected].
Last but not least, you may be interested to learn why Traders Academy Club is likely to be the #1 forex educational provider in 2020 by reading our Comparison Review for Online Trading Academy v.s. Traders Academy Club.
Tim Lanoue
Guest Author