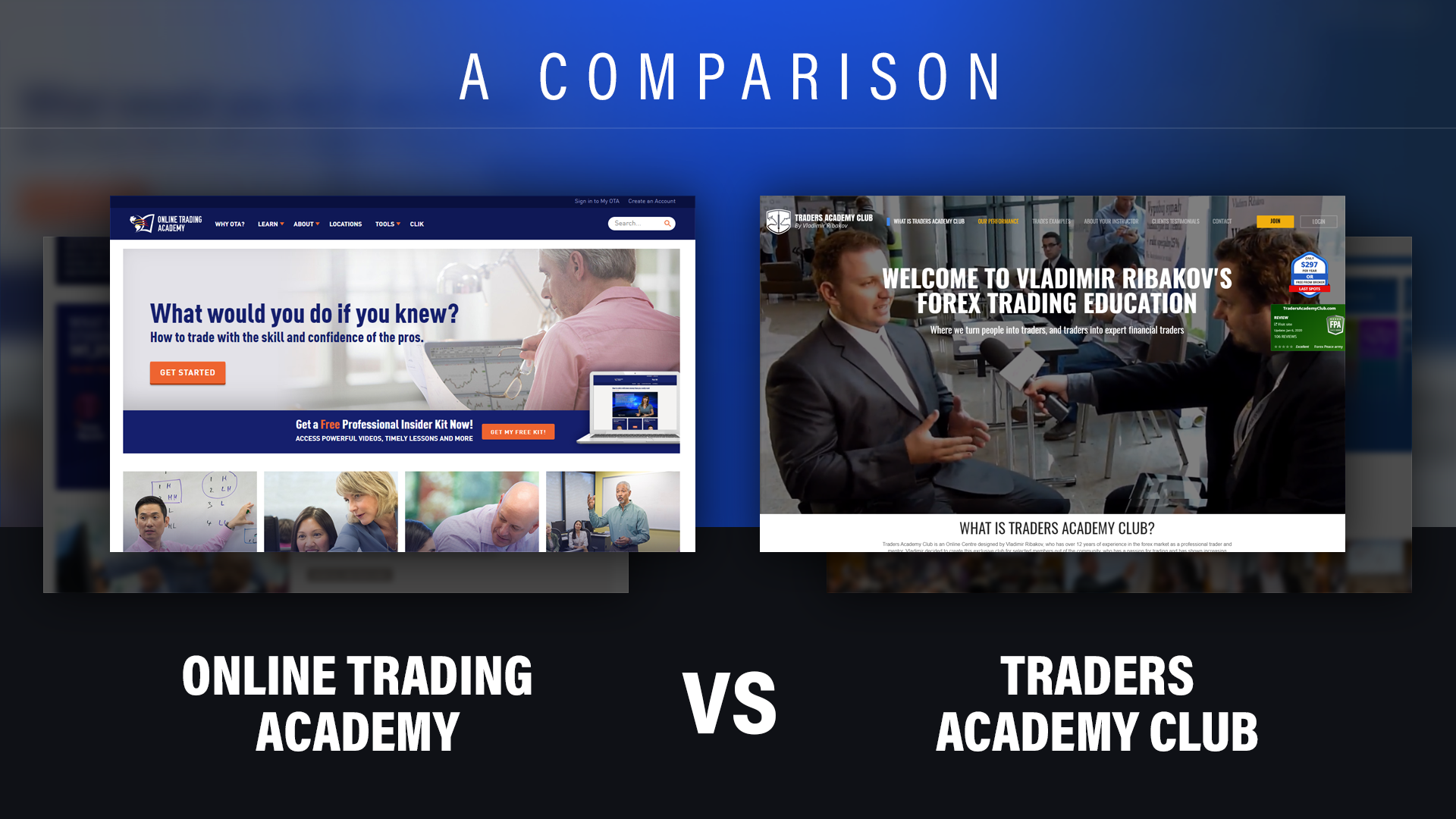 Online Trading Academy v.s. Traders Academy Club | Best Forex Trading Lessons
Pursing after financial freedom can be found in different industries. One of them is seeking a quality trading education and the place to start is first, finding a professional persona or service and follow it.
Two of the best educational online service providers for online trading include the Online Trading Academy and Traders Academy Club.
Now as many of you know, forex trading is not as easy as it is commonly depicted but nonetheless it has served as a way of life for thousands of traders and will continue to so long as the Earth keeps spinning.
There are peaks were unprecedented success kicks in while there are also obscure valleys that swoop in and cripple all hope and certainty of the future.
While forex trading can be a highly rewarding and liberating industry to become involved in, you must first understand that any investment industry is accompanied by a little pest known as risk.
The best way to diminish risk is to commit yourself to learning and understanding more about the venture at hand, only then can you formulate a game plan to carve out your own path of success.
Which leads us to our next point.
The aim of this comparison review is to provide a relatively in-depth scope into the advantages and disadvantages of the Online Trading Academy and Traders Academy Club. 
So with these facts in mind, let's begin.
Online Trading Lessons
Online Trading Academy
Online Trading Academy (OTA) has been around for over 20 years so the variety of their programs do outnumber Traders Academy Club.
In their stock course, you'll learn about Online Trading Academy's core strategy which is said to teach you how to begin stock investing along with how to spot a good trading opportunity.
The foreign exchange course primarily covers how to analyze global markets and market flow, how to select optimal currency pairs for trading objectives, and how to utilize both equities and forex while trading.
OTA options education aims to provide traders with the ins-and-outs of options trading strategies which could help you better participate in the markets whereas the futures course provides a little more scope through breaking down E-mini index funds, futures trading strategies, and how to tell if you've chosen a "traditional" commodity to invest with.
It should be noted that OTA provides a combination of in-class and web-based instructions although they are considerably well-known for their in-class courses.
Traders Academy Club
Traders Academy Club (TAC) has been around for nearly 3 years and was cultivated with the purpose of turning novice forex traders into self-sufficient and highly capable foreign exchange traders.
What differentiates Traders Academy Club from Online Trading Academy would be not only the comprehensiveness of the trading parameters discussed but how there are far more trading resources available for traders enrolled with TAC.
In a sense, Traders Academy Club isn't a strict lesson-to-lesson course but rather an easily navigable online center that covers a vast array of need-to-know forex trading knowledge.
Founded by Vladimir Ribakov, an International Certified Financial Technician and Professional FX trader of 14+ years, Traders Academy Club teachings aren't just built upon proven trading methodologies but are also coupled with widely unknown facets of forex trading knowledge that only extensive experience can provide.
While Traders Academy Club does not promote educational services for investment industries outside of forex, something has to be said regarding how a more comprehensive insight into a specific trading niche considerably outweighs lessons that are composed with less substance.
Additionally, TAC was crafted more towards traders who prefer to conduct learning in their own time and at their own speed whereas OTA oftentimes requires preset in-class instructional courses that are divided into ten 3-hour sessions.
So, if you're the type of learner who prefers to take lessons at your own pace then you may want to consider Traders Academy Club over Online Trading Academy.
Trading Methodologies Discussed
The current course curriculum and course schedule for Online Trading Academy's forex course have been pulled (likely as a result of the Coronavirus pandemic) so we'll share with you what they state you'll learn:
Currency Pairs – How to analyze global markets and choosing the right currency pairs for your trading intentions.
Technical Analysis – Discover how to track and capitalize on market moves.
Trading Plan – Develop a custom-tailored trading plan that is built upon trading benchmarks and practice trading scenarios.
Multi-Asset Trading – Breakdown the differences between forex and equities along with how to invest both in unison.
On the other hand, Traders Academy Club provides a cornucopia of forex trading wisdom that not only is educational but is also accompanied by applicable forex trading resources and tools that are geared towards improving your trading.
Topics Discussed
Forex 101 – The Essentials You Should Know

Basic Technical Analysis

Chart Pattern Webinar

Candlestick Webinar

Proper Money Management Techniques

2-Part Investor Style Webinars

Advanced Trading Techniques

Essentials of Investment Trading

Multi TF Divergence Trading

Various Market Cycles

How to Trade Divergences

Secrets of BollingerBands®

SPT Trading Strategy

Trading Strategies

Cryptocurrency Investment Guide
Additionally, you have access to a daily trading chatroom with TAC operators and other enrolled trading members. References to legitimate semi-automated trading systems may also be found along with live market analysis reports, weekly trade ideas, recommended investment brokerages, career opportunities, forex trading signals, a forex trading community, and much more.
Pricing, Fees & Subscriptions
Online Trading Academy professional forex trading course is divided into ten 3 hour sessions and has a list price of $5,500, which equates to an average price of $550 per lesson. Prior to enrollment, all applicants are required to take a free introductory course but overall the cost of service is high.
Traders Academy Club comes in with an annual subscription of $297 or you can obtain free enrollment by registering and depositing with one of the Traders Academy Club recommended brokers, all of which are regulated and licensed, which leaves the money in your pocket so to say. 
Additionally, you should know that the Traders Academy Club subscription can be canceled hassle-free at any time although you'll lose access to the daily live trading room, weekly forex trading ideas shared throughout the group, and the multitude of other offered trading resources.
Online Trading Academy Pros & Cons
Pros
A strong online member base

Over 20 years of active business

An industry leader in trading education
Cons
Lack of scope and comprehensiveness in lessons

The price tags associated with OTA are excessive

OTA has amassed a consistent volley of recent complaints

The company (Newport Exchange Holdings, Inc.) behind OTA is pending government action by the Federal Trade Commission due to "unfair or deceptive acts or practices in or affect commerce and misrepresentation of material facts which constitute deceptive acts or practices."
Traders Academy Club Pros & Cons
Pros
Forex trading lessons possess far more depth

Created by an International Certified Financial Technician and professional trader

Reflects outstanding online reviews at

Forex Peace Army

Provides more than just educational services but also applicable trading resources

A Pioneer amongst forex trading educational providers
Cons
Forex trading is only industry covered

Lack of in-class instruction options
Online Trading Academy Reviews
At OnlineTradingAcademy.com you can find a fair bit of positive reviews but when you conduct external research regarding traders' experience with OTA you may be shocked with some of your findings.
For instance, TrustPilot, OTA only reflects a 3 out of 5-star rating where 34% of submitted reviews go on to share a 1-star experience.
An additional cluster of reviews can be found at DayTradeReview.com, the most frequent complaints related to the excessive pricing on lessons where traders report course fees up to $60,000!
Of course, not all reviews are negative.
Many positive reviews can be found on their site although you should be made aware of a recent development that we briefly touched upon earlier.
At the Better Business Bureau profile for Online Trading Academy, not only does OTA reflect a so-so rating but its corporate entity, Newport Exchange Holdings, Inc., has a government action pending against them.
You can read more regarding how the FTC is suing Online Trading Academy for Running an Investment Trading Scheme here.
Traders Academy Club Reviews
One of the most impressive aspects regarding the Traders Academy Club would be the vast majority of positive trader reviews shared.
At ForexPeaceArmy, Traders Academy Club reflects a 4.7 out of 5.0-star rating out of 106 reviews.
Shared below are a couple of the most recent reviews we found:
meehanmj01 – "By following his teachings he will make you money and give you a career for life. He also creates a number of ai programes and a divergence course of study and live applications."
VinceVega – "..I've been with TAC and Vladimir Ribakov for 2 months now and it's been an overwhelmingly positive experience…The first thing I was impressive with is the sheer amount of learning content Vladimir provides, you'll learn anything you need to know to trade any market on any timeframe. There are video series explaining with a lot of detail how to analyze an instrument top down, using his unique style of cycles & divergence. You'll learn how to create a hypothesis, develop a plan and identify setups in that direction and invalidation signs… There is no more second-guessing. It is a lot of material to digest though, I'm a nerd and it still took me over a week to go over all of it. But once you got it, you'll be able to go through your watchlist like – No, No, No… YES!…Furthermore, there is the Telegram group, where not only Vladimir and Yordan, his head of trading, are constantly present to answer questions and comment on peoples chart, there is an active community of successfull traders that trade all kinds on strategies – such as Price Action Patterns, Elliott Wave, Harmonics you name it. You'll get views from multiple different minds, when their opinions line up – which they often do, you have some amazing setups… So to summarize, overwhelmingly positive, very great experience, best trading decision I have made in my life, been out there alone for a year and it's not been working. Trading itself is hard enough, no need to fight out there alone. So don't hesitate, join us for a ridiculously cheap price btw!"
Additionally, we've recently composed a publication that reflects a culmination of over 50 trader reviews regarding Vladimir Ribakov and his trading opportunities.
Which Provider is Best Suited For You?
Online Trading Academy and Traders Academy Club are two educational opportunities that are cut from a similar cloth.
If Online Trading Academy had not been facing government action from the Federal Trade Commission we would say that for educational opportunities outside of Forex that they would be more ideal but given the circumstances and the nature of why they are being sued we certainly cannot do so nor would we tarnish our integrity by promoting deceptive offers.
When it comes to choosing an educational forex provider it is always wise to leverage the feedback from other traders who have experienced the lessons prior to you.
Traders Academy Club is one of the highest-ranked educational providers for forex trading and the quality of the lessons, trading resources, and additional trading tools bestowed to you are worth far more than the value being charged.
So, it boils down to whether or not you want to be a successful forex trader or not.
You can astronomically increase your odds of success through adding value and educating yourself in a time frame that is suitable for you or you can go it alone and seek other providers if I had to choose I know who I'd learn towards though and so should you.
Recent Developments to Consider
While Online Trading Academy is likely considered the most popular resource to go to for trading education, the Federal Trade Commission's pending lawsuit against Newport Exchange Holdings, Inc. should raise considerable concern amongst those who are actively participating or were considering enrolling with Online Trading Academy.
Additionally, this is in no way, shape, or form a jab at OTA, in fact, it's the contrary because we only wish for our traders to be up-to-date and have all the facts in hand prior to making an investment into their future.
Given a government action such as this, and the nature of why this lawsuit came to be, is not only disturbing but should serve as a valuable lesson that sometimes even the most popular options aren't always the best opportunities.
Closing Thoughts
When the dust settles and visibility becomes clear once more, there are advantages and disadvantages to both service providers but given recent developments regarding Online Trading Academy, I would have to say that Traders Academy Club is the current clear-cut winner for who is the best educational forex service, provider.
Not only are Traders Academy Club rates far more affordable but you acquire more in-depth forex teachings while gaining access to over half a dozen valuable trading resources and tools that can make you a better overall trader than what OTA can likely provide.
Before starting online trading, it is important to understand the risks involved and understand that you should only invest money that you can afford to lose.
We all are facing difficult and trying times as a result of COVID-19 but the effects generated by this lethal pandemic don't have to burden us down or cloud our future.
You are the master of your life and you choose which path to take, choose not the easiest path but the path that will result in a more collective growth that way you can prop your loved one and yourself up for the best chance of success.
Should you have any questions relating to this publication we invite you to share your thoughts, feedback, and insights in a comment below, or please feel free to connect with us at any time at [email protected].

Tim Lanoue
Guest Author